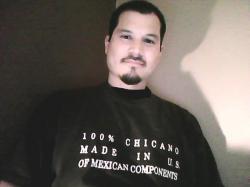 Poeta, Ángel F. Sandoval
I am excited to share
Ángel F. Sandoval's
collection,
Shades of Brown
(click this link to travel to the work), featured now at UC Merced's alternaCtive publicaCations. AlternaCtive publiaCations, publisher
Dr. Manuel M.Martín-Rodriguez
, is dedicated to posting unpublished creative works, primarily by Latino and Latina authors.
I met Ángel a few years ago while doing a reading at San Diego State University. He was in SDSU's MFA program at the time. After the reading he came up and shared with me that he was also from the Imperial Valley, Brawley, to be exact. We exchanged some quick stories and have remained in touch ever since, even reading together on a few occasions which has always been an inspiring experience.
Ángel's work is energetic and full of Chican@ love. His words grip the page like tightened fists then explode into a confetti rainfall as your eyes pass them by. This collection is special to me because I recognize nearly all of the sites this poet recalls, the big aroma, the blasting sun, the wide and infinite fields, and of course, the beautiful people del Valle Imperial.
El Barrio on the North End
On the east side of that barrio was the cemetery,
and on the west the city dump. And fallow fields
or plots of gone-bad onions took up the open space.
That barrio was enclosed by deep dirt ditches
and dried up concrete canals working a whole lifetime,
harvesting la perennial pisca de plastico...but
also
the three-year-old's
shoe
clinging on to the steep bank,
the piece of shirt collar\\\caught on the floodgate blade.
I remember the war we waged on
the rattlesnake we jumped and skinned and hanged
on a low tree limb for all to see
how cold-blooded we felt.
A hummingbird thirstily drank from the naked flesh.
ElGato limped over and slashed\\\off the long rattle—
the blood and venom joined the other spots on the sidewalk.
DonTémoc, el escribano y cuentista, came out with his cane,
shaking his head as always, and took down the flayed body.
Two surcos slithered and cut\\\between apartment buildings.
We played tackle football in the trenches

—sloshing
through backwater—
as the older vatos watched on.
They scouted talent amid the muck and grime.
Y ya traían bronca
from home school hace un chingo

and they'd argue
with fileros or lechugueros in hand;
ready to protect their reps,
ready to recall all the rage and hate in their hearts
and pour it down the guts of the twin gutters.